Event Calendar - Creating Event After Event Happened
Purpose:
Creating an Event after the day of the event (example: extreme weather closure, power outages, etc.) Also, how to update students scheduled hours for the Event date.
Start Page Menu on the left of the Prestige page.

Click on Reference.

Click on Events Calendar.




Select Events Type, depends on what the school has named the calendar, and the Campus(es).

Select a day by clicking on the days block, but not on the date number.






Setup the Event:



a. Select Campus or All Campuses.
b. Set From and To dates and times (date is defaulted to one date.)


c. Set Title for the Event.

Check mark Day Off if school was closed.


d. Select if it was a full day, or how many hours the school was closed.


e. Enter any notes, if needed, to describe the event.

Click on Save Event button, bottom left of event screen.

Message window will appear.

a. Click on No, this will not recalculate Scheduled End Dates for any students affected.
b. If Yes is selected, this will recalculate the Scheduled End Dates for any students affected.
The following below apply to clicking Yes:
No Contract Change Addendum form will be created.

EA or Contract Change Addendums that exist will not match the new Scheduled End Date.

This could be used if the school has Snow Days/Emergency Closures worked into their Scheduled End Date calculations during Admissions.
Click on "Start Page" in the upper left hand corner of the screen.
Look at the Shortcuts menu on the right side of the screen.
Click on the "Update Students Program Schedule" link.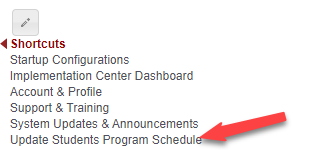 The "Update Student Program Schedule" link will adjust the recorded scheduled hours for the students. This looks at the date of the event and any students that would be affected by the event. Any recorded scheduled hours will be removed for the students that meet the requirements for the Event.
Note: If "Update Students Program Schedule" link is not visible in Shortcut list. Please create a trouble ticket to get the issue resolved.