Prestige Student Management Systems
Your school's web site is one of the public faces of your organization.  The website look, feel, data and information affect your brand and public perception.  Additionally .edu domains typically have higher google PageRank results because they are from a quality, respectable sites.   As a school it is a best practice recommendation to have a .edu domain name.  
Domain names usually end with .com, .org or .net, but recently, a huge amount of domain extensions (the end part of the web address, like .com) have come out, ranging from .agency to .pizza.
However as a school it is highly recommended you use a .edu domain.  It adds a sense of professionalism as well as an education domain qualifies your organization for education institution classification. For example both Google provides and Microsoft offer free Google Doc or  Office365 licenses for all students and staff.  - as long as you have a .edu domain.
If you're making a website for your school, your domain name should match your school name. For example: YourschoolName.edu.

Suggest picking a single word, or combine two words into a single word for the domain name.  For example www.Benes.edu
First a little background.  A web site is like a collection of individual documents, kind of like the documents folder on your computer.  Every time you add a new page, you add a new document to the file folder.  If you edit the page, like add a picture or change the words, you open up one of the documents - change it and then save it.  
The public will find your website by it's address, your domain name i.e. www.benes.edu, and be able to see the file folder and all the individual documents, pages.   A web hosting company is the entity that takes that file folder and puts it on the internet where people can find it and view your page.  
The normal standard process to set up a web page is to go to a company like Godaddy, Bluehost, Weebly or some other company that does everything in one stop - you get a domain name, it is hosted and the user (you or your team) can create the website on their platform.
The challenge to this process is the .edu domain name.  In 200, the US department of commerce granted one company, Educause, the ability to create new EDU domain names.  This change was to insure only eligible institutions are able to hold a .edu domain name.  This is why you cannot see the moniker of .edu on Godaddy or any domain service, they cannot request one for you.  
The kicker is that Educause only does the verification and awarding of the domain name to the school, they do not do hosting.  So, the school then needs to find a service that points the address to the correct file location and then one that will host the web site.
Email management is usually provided by the web hosting company.  They charge per email account and something for management.  Google has a great service for schools, identified by the .edu address, which provides free google accounts - including Gmail, Drive - cloud storage, Word processor, spreadsheet, presentation software all free.   Setting up the service requires a few simple steps and can allow your school access to a lot of free or discounted programs.   Not to be outdone, Microsoft offers free Office365 accounts, with storage for every student and staff registered with an .edu account.  
So here is a summary of how our school, Bene's Career Academy is set up:
The domain name is provided by Educause

The DNS address, and named server is hosted by hostmysite.com

Our Web site is hosted by Weebly.com

Our emails and email addresses are managed by Google
STEP #1: Find and register your Domain Name
Getting the .edu domain requires 4 steps.
Check to see if you are eligible

Check to see if the name is available

Manage the domain

Pay the bill, $40 a year.
Eligibility:
If you school is on the list of accredited institutions than you are eligible to request an .edu domain.  As a NACCAS, AACS, or other nationally or state accredited institution you name should be on their listing.    Only U.S. postsecondary institutions that are institutionally accredited by an agency on the U.S. Department of Education's list of Nationally Recognized Accrediting Agencies (see recognized accrediting bodies) may obtain an Internet name in the .edu domain. These include both "Regional Institutional Accrediting Agencies" and "National Institutional and Specialized Accrediting Bodies" recognized by the U.S. Department of Education.
Go to the educause Site: www.educause.edu/edudomain/request.asp
Click on the Request New Domain Link.
Scroll down on the page to the entry box near the bottom.  
Enter your school name, or the name you want to use for your new web site address.  The first step is to request the domain name.    
           The domain name is the  _______school name______.edu
---
For example for our school we entered:  Prestige   and the system checked to see if Prestige.edu was available.  
The system will tell you if your name is available.  If the name is not available, try a different variation.
---
You then need to confirm your school information.  You can do this by either entering the institution name, city and state and clicking on search.    Or…
Select the accrediting institution from the list of organizations.
---
By selecting search by accrediting organization, a list of all the schools accredited by the organization is listed.  
Once you click your school name.  Enter a password for the account.
---
You will receive an email notifying of the request for the domain.  In one or two days you will receive an email confirming your new address and requesting you to return to the site to pay $40 for registering the Domain name.
Your account would be managed at the Educause website. This includes entering the named servers (the next step) and paying the bill.
Step #2… Register the DNS with a hosting service.
You need to identify a named server.  This is where the domain name will be forwarded to.
We use Hostmysite.com to manage the DNS named servers.  I understand this service may be available from other web hosting companies, such as Godaddy or others. Our account with hostmysite provides named servers for the DNS.  I called them directly and they stepped me through the entire process.
The named server provider gives you a set (3) of server names that you enter into the Educause page.  This is how educause knows where to send traffic for your site.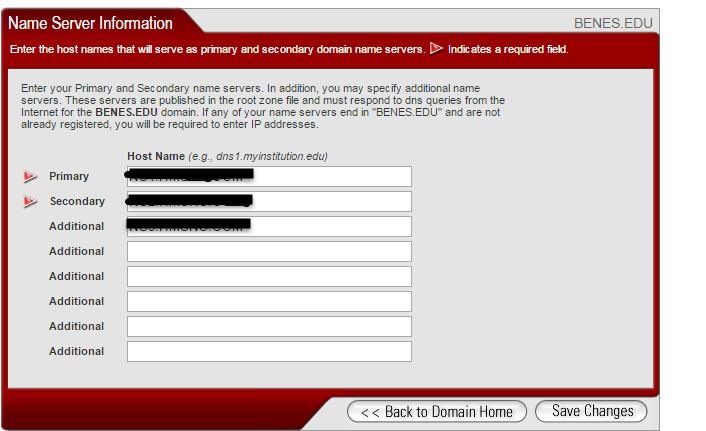 Once you determine where you site will be hosted/managed you point the named servers to the host location.  
We use weebly for our web design and hosting.  Once you set up an account with a web host, set up the forwarded IP address on the DNS host.
On hostmysite.com we also entered settings for the Email.  In a separate document we will go into detail on how to set up Google Accounts.   Once you google account is setup - you specify the mail forwarding settings to control google email.
Conclusion:
I am sure you recognize there are a lot of reasons why to move to an .EDU domain name.  Unfortunately there has been very little information on exactly how to accomplish this task.  Hopefully this document helps your organization figure out how.  If not, we at Prestige can help you.  It's what we do.
We are school owners that have spent years mixing technology and management know how, to develop a school empowerment system that made running our schools easy, efficient and powerful.  Now we can help you too.
  You will notice the difference in how we sell, how we support you and how we will help your school succeed.  Either with professional services or through our software systems.  You will save time and your job will become easier.  We guarantee it.
One-Year Money-Back Guarantee
Try our products/services for a full year. Put us through our paces, and see what kind of results you get. We're so confident you'll be happy after a year of using our Prestige that we will offer you a full refund of the monthly fees for up to one year.

Try it out and see what happens for you – we think you'll be pleasantly surprised. Your students will be happier, your attendance number will improve.  Your back office will be more efficient and NACCAS compliance reporting will be a breeze.   If you are not 100% satisfied, and we have not been able to help you, we will refund your monthly fees for up to one year.  Become better, let us help you.  
www.prestigesis.com
Prestige Student Information Systems                   Set up an .edu domain name for your school
727-493-4004