Prestige Student Management Systems
High school tracking
Introduction:
The purpose of this document is to provide the specifications for filing of Forms 1098, electronically with the IRS FIRE system. Electronic reporting of information returns eliminates the need for electronic filers to file paper documents with the
Report Location in Prestige
I added all of these High School see below direction on how to add high schools.
Step 1 Click on Lead Records
Step 2 Pick High Schools (drop down list)
Step 3 Click New Contact
Step 4 Type in all Info
Step 5 Click Save
Repeat for each school.
​​
Required Fields for the Report
There are several fields that are needed in the IRS extract report. In the Prestige System these required fields are listed on the report instructions. Please make sure that each of these fields are populated prior to running the report. The specific field are listed on the right hand side of the page.
For more specific detailed instructions from the IRS click on the "instructions" link on the left hand side of the screen. This will return the 140 page instruction document from the IRS.
These are places to look in the account setup to add the required fields for the extract.
Setup & Customization/ Account & Profile/
Report Creation
Once all the required fields have been populated the extract file can be created.
Select the tax year

Determine if you are creating a test file

Generate report
Note: it typically takes 2-3 minutes for the extract file to run. The system will open a new tab to create the file. During this time the user will see a rotating browser icon in the URL line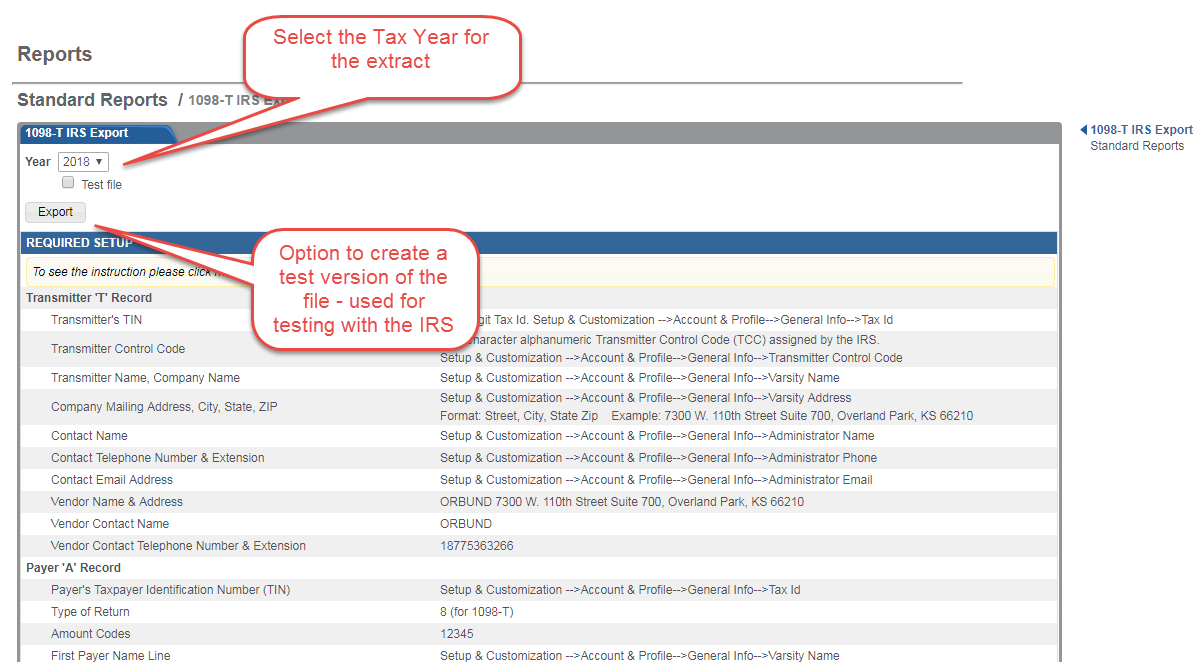 File Details
Once the file has finished running the the file, a link to the document will show on the bottom of the browser window.
The file will be named:
Year_ school name1098t.txt
Clicking on the document will open notepad or the designed program on your PC for seeing TXT documents.
Upload to IRS
Save the document locally.

The user can then log into the IRS site and upload the file.
Prestige School Management Systems