Prestige Student Management Systems
Admissions Process
Introduction:
The purpose of this document is to provide the specifications for tracking new leads. Tracking lead progress, import ISIR's (if school is accredited), to final step of making leads into an enrolled students.
Managing Leads: Leads that come from the website will upload into prestige or can be
manually entered by admissions staff.
Reminders
Check today's "Reminders Widget" for any calls or appointments for the day. The leads names are clickable.
Follow up
Check Voicemail, make any calls or send out emails.
ISIR'S
Note: This section is ONLY for accredited schools, if your school is not
accredited then skip the financial aid section.
Import ISIRs by clicking on "Setup and Customization"

.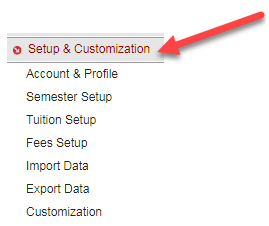 Select "Import Data" and then "Import ISIR" Select the correct year ( 17/18 or 18/19) and then the file from the weber folder with the corresponding year. (If the years do not match up the ISIR will not import).
STEP 1
STEP 2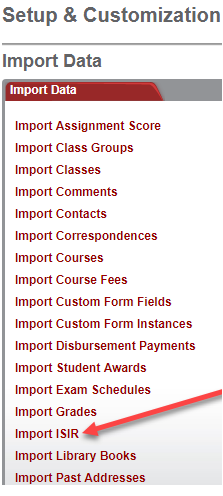 INCOMING ISIR'S
When a prospective student fills out a FAFSA we receive an ISIR. ISIRs are imported daily, and show up on your start page in the "new applications" widget.
When a New Applications comes up you should immediately go into the student record and adjust the status to "application in progress" if it is a student you have been working with. Or if it is someone new you can leave it as "new applicant" until you have made contact with the student.

STUDENT RECORDS
Most student records are created when the ISIR is imported. At that time I will delete the lead record and work with the student record only.
If you have already collected and coded documents into the lead record you will want to make that a student record and merge it with the student record created by the ISIR import.
WORKING LEAD PROSPECTS
Note: All lead names are clickable
Go to "Prospects for your campus" widget
As you are working your leads make sure to change their lead type as they move along in the process.
LEAD STAGE EXPLANATIONS
Left Message: If you didn't reach the prospect and left a voicemail message.
Made Appointment: 1st Appointment was scheduled.
Working: If prospect showed up for 1st appointment and scheduled 2nd appointment.
In-Financial: Prospect comes to 2nd appointment and fills out financial aid.
Nurturing : Prospect is moved to this lead type if they have missed appointments, needs documents.
Enrolled Student: This is when you Make a student record.
Lost/ Not interested: If prospect doesn't show for several appointments, or informs you that they are no longer interested.
EMAILS/ONLINE CORRESPONDENCE
Email templates can be used to quickly send an email to a prospective student.
The email templates can be sent by clicking "send/print document" at the bottom of the lead/student record in prestige. (students name will autofill with name and email address).
You can choose from which email templates from the drop down menu or use your campuses stationary to send a custom message.
After 2 unsuccessful phone call attempts you will send out 2 emails before attempting to call again. If you have made 4 phone call attempts (more if you cannot leave a message) and sent out 4 emails, then you can move to nurturing and only send out periodic emails.
COLLECTING DOCUMENTS
Note: This explanation is for schools using the electronic filing system
When a prospective student brings you a document it should be scanned into your shared documents folder, and then coded into prestige.
To code into prestige you go to the student/leads file, on the right hand side is a tab that say "files and documents" click there, then scroll to the bottom and click "upload files" from here you can drag and drop from your shared documents folder.
Select the proper document type from the drop down menu for each document and then click upload.
REMINDERS
Reminders serve as a way to keep track of individual details. Things like calling back at a certain time, or asking about a certain topic. It's impossible to remember all of the individual details of each prospective student so reminders help to keep your organized.
To set a reminder you click on "reminders" on the right hand side of the student record.
You select the date/time and what type of notification it should send (text, email, phone) and then type in your reminder.
Upcoming reminders will show up in your reminders widget on your start page in prestige.
Once a reminder has come and you complete your task you change the status of the reminder to completed so that it will not be in the widget anymore.
Note: You can also use the staff drop down menu to send reminders to other staff
members
BEST PRACTICES FOR PROSPECTS
Click on prospects name (in red). Make first call attempt to set up school tour. Make 4 calls in attempt to contact prospect before putting in email only list.
1st Appointment: Give school tour, go over school catalog, answer any questions. Have prospect bring in Driver's licence or state Id, Social Security card, and High School diploma or GED. Set up next appointment.
2nd Appointment: Have prospect bring proper tax forms, assist prospect in filling out their FAFSA.
3rd Appointment: Review financial aid, ask for any documents for verification (if applicable). Have prospect fill out Pre-Enrollment form. Go over program cost sheet.
Final Appointment: Have student do loan entrance counseling, Master Promissory Note and sign enrollment agreement.
CLASS ENROLLMENT
Once a student has signed an enrollment agreement it is time to put them into a class on prestige.
You will click "add/edit program"
Pop up box will appear Click "add"
Select the appropriate program, and campus. The enrolled semester should be current students.
"Enroll type" is their schedule, are they full time or part time. 100% is for full time students Most part time student will be 60%. The other options are rare and scheduled as needed for special circumstances.
Next you want to select "add by program" and select the right class. Be sure you are putting them under the proper class so that they show up the right instructors roster.
Next you put in the start date and contracted graduation dates. When you put in the start date prestige will generate the graduation date.
I always double check this using a date calculator https://www.timeanddate.com/date/weekdayadd.html for example a full time cosmetology student has to be in school for 40 weeks, so 40 weeks x 5 days a week =200 days, then I add extra days for holidays and winter break to contracted grad date. You have to adjust for different schedules, I have a list of how many days have to be calculated for each program and schedule.
At this point the student is ready to be put under the "enrolled" status. You then save the record and they are officially enrolled into the program.
TUITION FEES AND PAYMENT INFORMATION
Once you have done a financial aid assessment and decided on how the student is going to pay for school, you put that information into the system so that the financial aid and business office know where the money will be coming from for the student.
Click on the "Tuition fees and payment info" tab on the student record. It is located on the side of the student record.
You will check the appropriate boxes to show if the student is , VA, Vocational Rehab, or Cash Pay, or receiving Financial Aid, or sometimes a combination.
If a student is receiving Federal Student Aid you will select " tuition management company" as their payment method. And you should insert their EFC found on the ISIR
If a student has a cash balance or is a cash pay student you must fill out a business office loan agreement / payment plan and put it into the student file so that the business office knows when to expect payments for that student.
LOAN COUNSELING AND MPN
Note: This section is ONLY for accredited schools, if your school is not
accredited then skip the financial aid section
Any and Every student who receives federal student loans is required to complete Loan Entrance and Exit Counseling and a Master Promissory Note on www.studentloans.gov using their FSA ID. It is admissions responsibility ( In BRK and SH) to ensure that this gets completed and verification put into the students file.
We Cannot pull loans if these items are not complete and in the student's file. Therefore they are very important.
BEST PRACTICES FOR AFTER STUDENT IS ENROLLED
For the first 30 days after a student enrolls you should be watching their attendance to make sure they are not missing days. At this point in their schooling you are the closest one to that student and know the most about them. So if they are missing days you should be contacting them and finding out why. And reminding them of the contract they signed and the consequences of missing days.
Students will still come to admissions for questions about financial aid. You should be available for these questions, and helping to resolve any issues related to financial aid.
Events/Outreach
It's important for admissions to be at outreach events in the community. This gives you an opportunity to speak to the people in the community about the school, and what we have to offer.
You should be prepared for events with items and information to hand out, and a few student volunteers to lead a fun activity at the booth such as hair feathers, face painting, or chair massages.
I bring paper lead forms for people who are interested to fill out and I can contact them the next business day.